Image from Wikimedia
So what do you do when there's rain in the forecast? There was a time not too long ago you would have been stuck in the hotel with nothing to do. But you'll be happy to know those days are past! From in-room amenities to aquatic attractions, there is tons to do on Okaloosa Island when the weather is wet. Discover the 20 Best Rainy Day Activities on Okaloosa Island!
20 Best Rainy Day Activities on Okaloosa Island…
1. Visit the Boardwalk

Image Courtesy of The Boardwalk on Okaloosa Island
Okaloosa Island's #1 destination is The Boardwalk! Although some of the activities at the Boardwalk are outside, there are plenty of shops, restaurants, and things to do under cover and inside.
2. Laugh Your Head Off at a Comedy Show
Take some time to laugh. Comedy shows take place on Okaloosa Island year-round. Venture across the Brooks Bridge to experience the Comedy Zone at the Block taking place on select dates.
3. Gulfarium Marine Adventure Park
Dolphins, seals, and gators OH MY! One of the most popular rainy day activities on Okaloosa Island, the Gulfarium Marine Adventure Park is open rain or shine. Experience exotic exhibits, live shows, and trainer talks that will fascinate the whole family. Learn more about the Gulfarium online at Gulfarium Marine Adventure Park.
4. Be Amazed by MAXIMUM Magic
MAXIMUM Magic Theater is the Emerald Coast's premier magic show. Noah & Heather Wells perform masterful illusions on the beautiful Emerald Coast. Learn more about this acclaimed performance online at MAXIMUM Magic Theater featuring Heather & Noah Wells.
5. Shop to your Heart's Content
Between the Boardwalk, Destin Harbor, and Downtown Fort Walton Beach, there are plenty of places to shape on and near Okaloosa Island. From coastal boutiques to fishing outfitters, find a full list of places to shop on Okaloosa Island online.
6. Grab some Grub
A good meal can help take your mind off the grey clouds. One of my favorite rainy day activities on Okaloosa Island, choose from dozens of essential eateries serving up steamed seafood, artisan tacos, and even some indulgent desserts.
7. Send the Teens to Fudpucker's Teen Night
Fudpucker's in Destin hosts a teen dance that your kids will love! Let your son or daughter co-mingle with peers in a safe space. With a strict zero-tolerance policy on drinking, drugs, and violence, Fudpucker's Teen Night is a worry-free activity that may score mom and dad some cool points! Make your teen the "belle of the ball" at Teen Night with the Fudpucker's Teen Night VIP Card!
8. Wild Willy's Adventure Zone
Although some of Wild Willy's attractions are outside, they still sport an impressive arcade and 4D movie theater indoors. SAVE on Wild Willy's admission when you purchase tickets online at Wild Willy's Adventure Zone.
9. Own the Night
The Okaloosa Island nightlife is some of the best around. The rain may put a damper on some of your favorite daytime activities, but wet weather has got nothing on the night!!
10. Head to the Harbor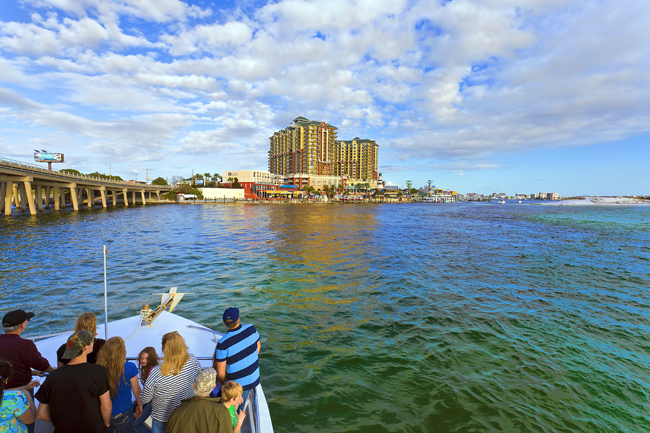 Rain or shine, the Destin Harbor has plenty to do and see! A stones-throw from Okaloosa Island lodging, the Destin Harbor, including the popular Harborwalk Village, offers all-ages shopping, dining, and entertainment!
11. Escape Zone 60
Experience the thrill of live-action puzzle solving at Escape Zone 60. Escape rooms are the latest craze to hit the Gulf Coast; come see what all the fuss is about!
12. Emerald Coast Science Center
Part museum, part laboratory, and 100% fun for all-ages! The Emerald Coast Science Center, located in Downtown Fort Walton, hosts intriguing exhibits and frequent educational events that are sure to entertain the entire family.
13. Camp Walton Schoolhouse

Image from the City of Fort Walton Beach
Be transported back to the days before Netflix, smart phones, and yogurt in tubes. The Camp Walton Schoolhouse Museum offers a compelling look into the lives of school children and teachers of the early 1900s.
14. Fat Daddy's Arcade
This arcade will have your kids hoping for a rainy day! Fat Daddy's Arcade is a great way to entertain the little ones when bad weather strikes.
15. Indian Mound Museum
The Indian Mound Museum in Downtown Fort Walton Beach puts over 10 thousand years of Native American history on display.
16. Check for Condo-Provided Activities
Lots of hotels, condos, and vacation rentals like to offer indoor activities in the event of rain. Ranging from kids clubs and karaoke to trivia nights and movie screenings, these activities are usually included in the cost of your rental.
17. Staycation
Yes, you came for the beach. But inclement weather may also provide an opportunity for quality time with friends or family. Throw down some cash at poker, roll the dice for a 12 hour round of Monopoly, or use that in-room DVD player to watch Moana with the kids (for the 1,000th time).
18. Relax With a Massage
The weather may be a perfect excuse to treat yourself to some "me" time. Relax with an in-room massage from Mobile Massage Therapy, or head to one of the local spas for a top-down treatment that will melt your vacation stress away!
19. Air Force Armament Museum
With several bases nearby, Fort Walton Beach is a military community. Take advantage of the local culture at the Air Force Armament Museum. Entry is free of charge, and exhibits feature fully-assembled military aircraft! This is one of the great family-friendly and educational rainy day activities on Okaloosa Island.
20. Live Music

The best entertainment in the south east makes their way through Okaloosa Island on a daily basis. Al's Beach Club & Burger Bar and KC's Beach Bar in downtown Fort Walton Beach are a few of the top spots, but plenty more venues in Okaloosa Island offer top-notch entertainment!